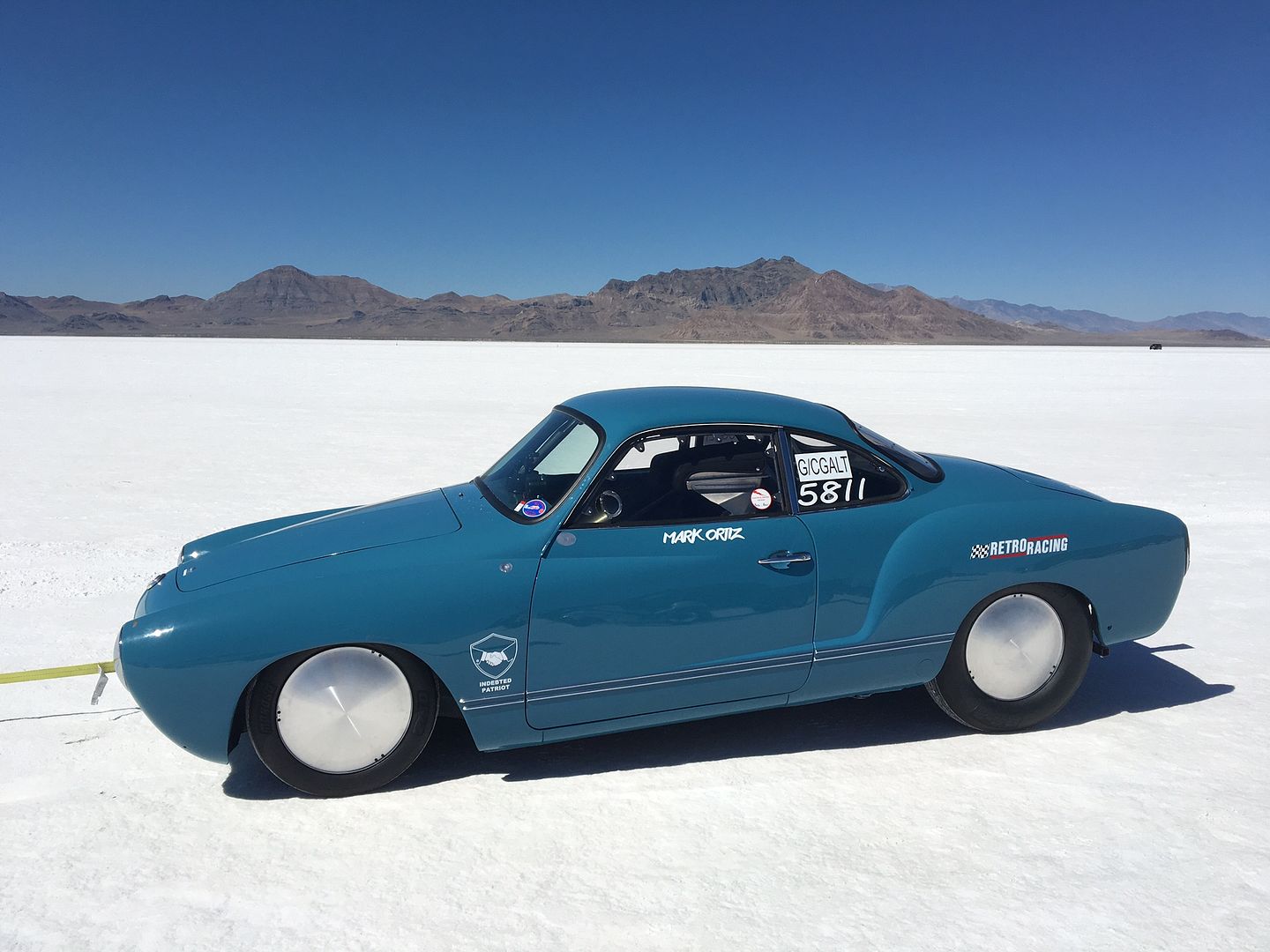 Above: Mark Ortiz takes another record on Kadrons, flying RetroRacing colors.
Kadron-Powered Ghia takes 2nd Bonneville Record!
Mark Ortiz set his 2nd Bonneville land speed record this year during the 10-13 September 2016 Bonneville World of Speed
An essential element in appreciating Bonneville records is understanding the classes. Cars are divided by four general categories, Special Construction, Vintage, Modified, and Production.
Special Construction are the cars most people associate with Bonneville. Any engine, any fuel, any body style and records of multiples of hundreds of miles per hour. But the rank and file cars that run here are closer to reality, being some version of a car you might drive on the street. To set a record, you find a class in which you can win, and you go for it.
For those who think some of these records are not that fast, that you could do better driving to work Monday, we respectfully ask, how many official land speed records do you hold?
Mark set his first Bonneville class record (G/Classic Fuel Altered) on August 16th, turning 106.420 mph in his green 1968 air-cooled Ghia. His carbs were 40mm throttle body Kadrons with 30mm venturis. His engine was a mild 1.8, big valves but no special head work, just a 120 Engle cam and 8:1 compression.
After a consultation with us at RetroRacing, Mark upgraded to 10:1 compression, added 1:25 rockers, and installed 32mm venturis and 140 main jets.
Mark ran this time in" G" engine (1500-2000cc) Classic Gas Altered Coupe. This is not a special VW class, but is open to anyone in class that qualifies. He returned to the salt flats just a few days before this report and ran an official record of 113.131mph. His official top speed was 118.625.
The previous G/CGALT record was held by the "Wagon A Go Go," driven by Dave Malot with his 60 cubic inch Mazda Rotary engine.- at 94.77 mph. In a station wagon.
For economy, reliability, and performance, Mark runs Kads, like we do on our racing engines and for the same reasons.
To keep his fan speed down, Mark runs a 4.75-inch crank pulley. To keep his RPM's within reason, he races a 3.88 final drive on 28-inch diameter salt flat tires in the rear.
Two wins back to back is terrific. The big question is what records to break next year?