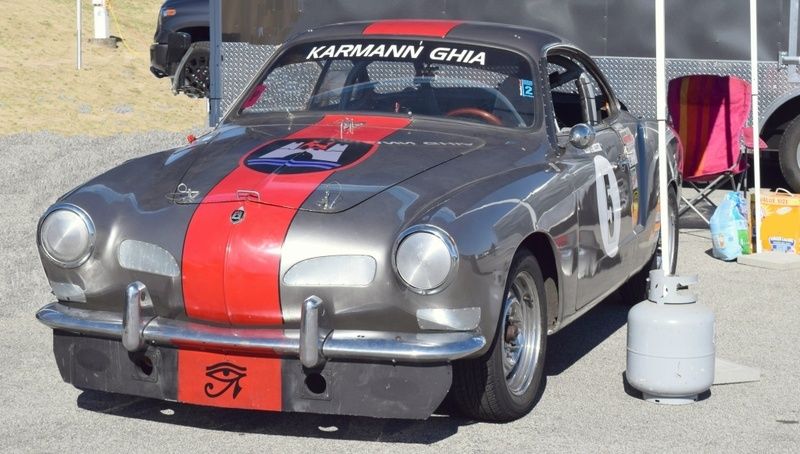 Race Prep for Road Atlanta 20-23 April 2017
In 1939, humorist James Thurber wrote
The Secret Life of Walter Mitty
, about a mild mannered man who had secret fantasies about doing exciting things. It was made into movies in 1947 and 2013. "The Mitty" is a classic car event held annually at Road Atlanta. Since the first running in 1978 it has grown to become one of the largest classic car events on the East Coast of the United States.
We ran our Historic Sportscar Racing Ghia in the Mitty last year and was doing great until we had oil pressure problems, self inflicted by excess sealant blocking the oil pickup. Here's a one-minute video clip where we run down two restored BRE Datsuns ... and if any of you reading this remember the reputation the 510's had back in the day, you know passing two of them is no small feat.
https://www.youtube.com/watch?v=Tng5ReSc2wY
We got back to the Mitty this season with some changes. First, no oil gallery sealant problems. Second, we're using a center-mount fan shroud with our own design internal ducting, and dual 40 IDF Webers rather than our customary Solex-Kadrons. The reason is simple. The Kad linkage won't fit because the center mount fan housing requires a different alternator stand.
Our IRS Ghia chassis has ATE/VARGA calipers at all four corners, a 20.6mm master cylinder, a 3-gallon dry sump oiling system, stock torsion bars front and rear, adjustable Konis all the way around, a 19mm front sway bar and no rear bar (promoting understeer), a 3.88 final drive, 8-gallon FIA fuel cell, and dual Facet fuel pumps in parallel.
We run 185mm 60-series radial tires on 5.5" steel stock wheels, and for the Mitty, we're going back to Hall-effect breakerless ignition after using points and condenser for a couple of seasons. We experienced what we considered early wear on the points rubbing block.
The engine is redlined at 7000, very carefully balanced, and has a brand-new aluminum bubble-top race case. We have a 74mm counter balanced crank, chromoly rods, 85.5mm hypereutectic pistons, and straight-cut cam gears rotating a Bugpack 4063-10 cam.
The exhaust is a 4-into-1 header, with a sideways-ducted exhaust pipe (passenger side) under the aluminum rear bumper. We use 40x35mm AJ Sims heads, dual valve springs, chromoly pushrods, 1.25 rockers, and a modest 9:1 compression ratio.
A nose-mounted battery, plastic rear window, and lightweight six-point roll bar (not cage), aluminum driver's seat, and many other weight-saving tricks gives us an excellent 45-55 front to rear weight distribution and a low 1800 lbs dry weight.
Ghia were made to be beautiful. They also make great race cars We mild-mannered Walter Mitty's never had it so good.
FJC