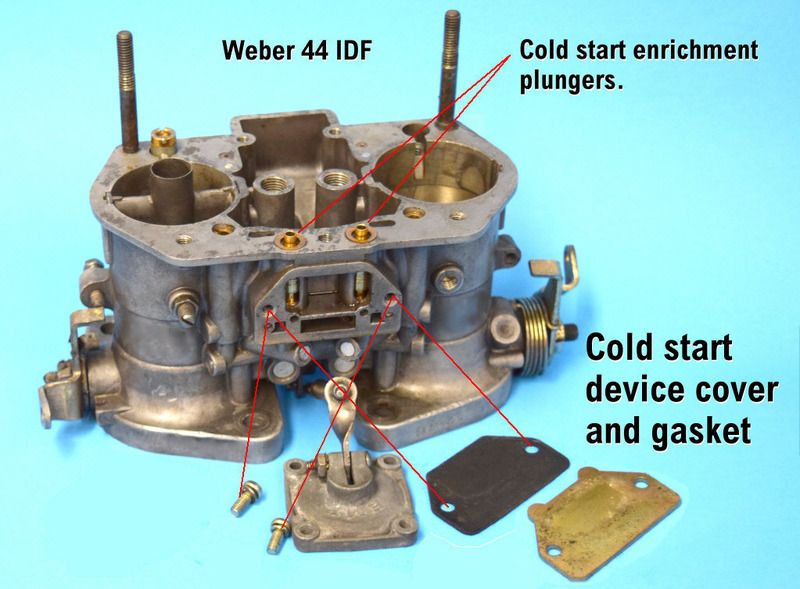 Disabling Weber 44 IDF Cold Start System
For cold weather climates, Weber provided a cold start system on some of its carbs that most of us in the USA ignore, or are unaware of completely. If you have a Weber 40, 44, or 48 , all you see is a block-off plate.
Sometimes, during a carb-top removal, the spring-loaded plungers pop out, and if you're lucky, you can find the springs and tiny retainer washers and reassemble the plungers. Good luck on finding a diagram showing how to reassemble it right. Most common Weber diagrams ignore the cold start system.
"Racing" Webers since the 1960's were delivered with a block-off plate over the cold start system, but that does not mean the system is disabled. The plate covers what was a cable-controlled lever device that lifted the spring-loaded enrichment plungers and allowed some extra fuel to flow to exit holes in the base of the carb under the throttle plate. There is actually a fuel jet, an air jet, and an emulsion tube inside each cold start system.
The trouble is, even sealed off, the cold start system can go bad.
One or both plungers can lift and begin to leak gas down the manifold, and you'll find you cannot get your idle leaned out, no matter which way you turn your adjustment screws or curse Eduardo Weber, his family, and his dog.
The permanent fix is to remove the plungers, and tap the plunger bore to about half its depth. A 3/8-24 tap works almost perfectly. Drop the plungers back in the bore, and lock them down with a set screw. The fully depressed plunger will seal off fuel leakage at the base.
Now, your idle mixture adjustments will work