Well, I finally got the reinforcing tubing bent, crush sleeves installed, and it welded in the tunnel today. What a pain in the poo-poo. My welder went TU, I had problems welding on the pan, my regulator took a dump, I have problems welding on the pan but now it is done and back to the body lift.
On the welding to the pan; Every time I tried to weld the pan material to the tube (1 X 1 X.120 wall) it woiuld spit and sputter like the gas was not flowing. The sputtering would fill up the nozzle within seconds. I took the welder in to be looked at, and we checked the regulator. It checked out OK so ZI left the welder. Three weeks later (we got back from the dunes) it was finished and he cleaned it and replaced one part. I put everything back together and tried to weld. The same stuff. I then noticed the the tank was emptying to fast you could both see and hear it. Took the tank back and they gave me a new one. Next the regulator went bad. New reglator (sidcount, thanks Central Welding) and tried to weld, It was better but I finally go through the one side. I forgot to mantion that welding anything else was great. I had used some weld trough primer which ai started to blame for the problems.
I got the second tube done and wire brushed the protective surface off the pan then went over everything including the tube with lacquer thinner. I clamped it back in place and started to weld, The same problems but a little less this time. I took a sanding disc on a angle grinder and polished the metal and tried to weld again. It welded better than I could. So it is done and out of the way,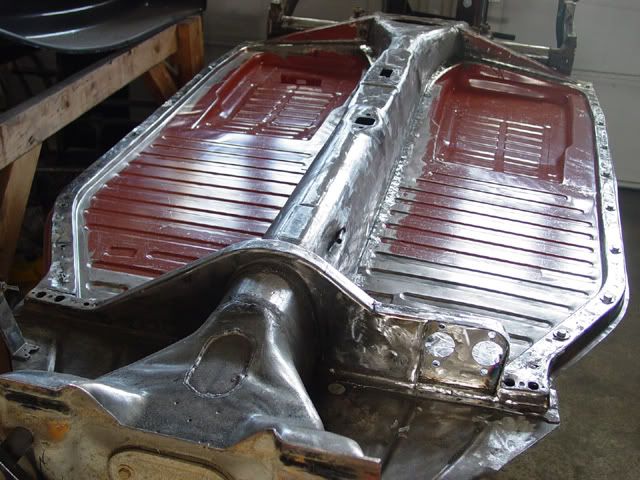 I still have to put a piece on the front of the tube to hold the nost down must like the apn came with.