Moderators: Leatherneck, rickosuave1987
Posts: 28
Joined: Thu Jul 06, 2017 4:54 pm
You do not have the required permissions to view the files attached to this post.
---
Posts: 14055
Joined: Tue Nov 14, 2006 1:17 am
Location: Just north of Seattle
I had an instance in the last few days where the picture I have had saved was not a jpeg file but a BMP file. I resized it OK but ignored they type of file so would not get past the choosing part of the attachment choice. I figured out how to convert it and I was able to post it a couple times in the last few days. Check what type of file it is and try to convert it to Jpeg if it isn't already.
---
Posts: 28
Joined: Thu Jul 06, 2017 4:54 pm
The photos right above your post is pics of my rail it has metal panels but I was looking for fiberglass panels and if someone made them for my rail.
---
Posts: 14055
Joined: Tue Nov 14, 2006 1:17 am
Location: Just north of Seattle
---
Posts: 2165
Joined: Tue Dec 02, 2008 12:08 am
Location: Lake LA, Mojave Desert, SoCal
Your frame looks like it may have been a 1970s or early 80s eastern built like a Probst or possibly even Berrien Laser single set frame. Fiberglass bodies for those frames or Funco / Hi Jumper / Chenowth, whatever that were built like yours have not been made since then and you're not real likely to find just the body panels for sale. Most modern offroad race cars since that time have sheet metal (usually aluminum) panels made for the car.
It looks like you're doing clean work so far. The front hood could be made more fancy with a bead roller and a bending brake (even if it's a jury rigged setup like a 2x4 and the edge of a work table) and bending long curves using pieces of various diameter tubes or even logs to bend over. Use 3003 or 5052 aluminum alloy for easy forming. Even just doing say a vee crease in the existing hood panel with the point of the vee at the steering box and the wide part at the base of the windscreen would add a lot of appeal. You could make a nose piece that fits over the front part of the existing front hood with simple shapes to it.
Or form a nose piece out of cardboard and bondo, or plaster, and take a fiberglass mold off it. Then make parts out of fiberglass. You can make a shape like I describe above and then simply apply fiberglass over that without a mold. That makes for making the surface smooth a little more difficult, but still VERY do-able.
Search the web for pictures of old 1970s single seat race buggies for inspiration for shapes.
Like the nose on my old Hi Jumper 2 seat (the yellow one - the orange car is a Funco, but VERY similar). They made single seat buggies with very nearly the same shape nose.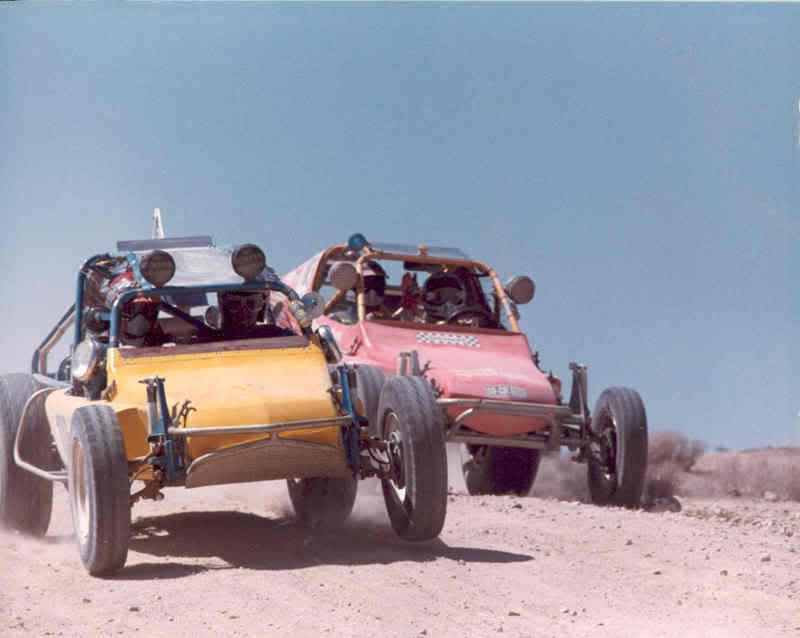 Funco single seater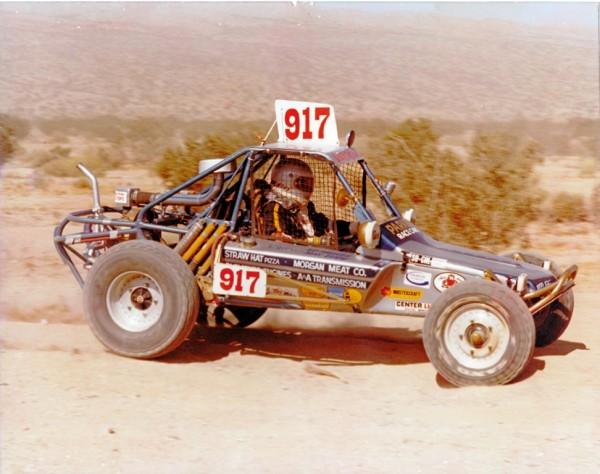 This is a Hi Jumper with a metal hood like yours that was for sale a few years ago, but the stripes make it look like there is more to the body work than the simple shapes that are there.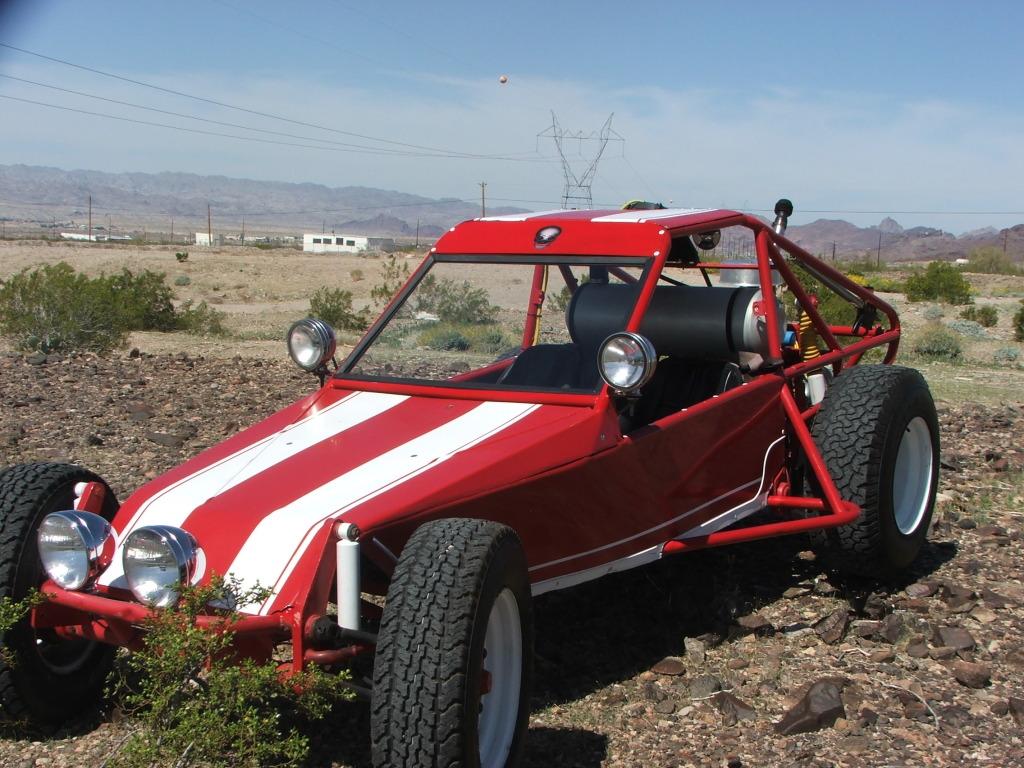 Richard
Lake LA, Mojave Desert, SoCal
Speed Kills!, but then...So does OLD AGE!!
A.R.T.S. OffRoad Race Tech Inspection
MDR / MORE / Glen Helen BajaCup Challenge
AKA: MojaveRacer208
'58 Baja with 815K Miles and counting
---
Posts: 28
Joined: Thu Jul 06, 2017 4:54 pm
Thanks for the reply.I did roll the hood down over the side panels.There was an article in a Vw publication recently that had an article on an old Baja single set that really like the looks.The panels I made are made of 16 gage steel for some safety hoping to make it street legally in Pa.
---
Posts: 232
Joined: Tue Oct 20, 2015 7:17 pm
Location: high ridge,mo
Have you been on tos and seen axitech's thread on all the hoops they made him jump thru to become street legal?
---
Posts: 28
Joined: Thu Jul 06, 2017 4:54 pm
Yes I have I have talked to him and he has told me make sure my ducks are in a row this has been a two year build up to this point.
---