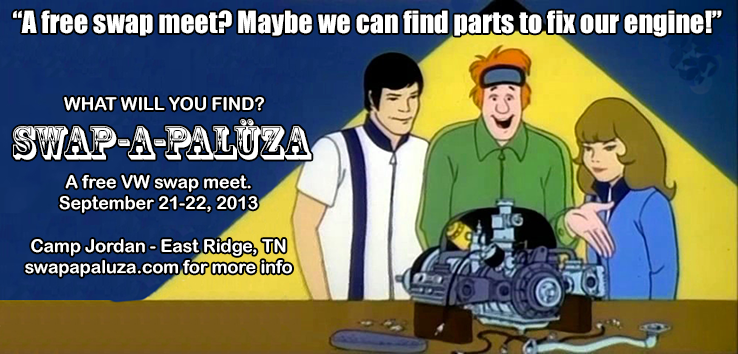 The Scenic City Volks Folks present
Swap-A-Paluza 2013
! September 21st-22nd at Camp Jordan in East Ridge, TN
We've rented the RV park at Camp Jordan for a FREE VW Swap Meet and Campout.  All of our VW friends are invited to attend.  There is NO registration and NO cost.  Buy, sell, swap or just show off anything VW related.  Camping is free Friday and Saturday nights (first come, first serve).
Notes:
* You are welcome to show your VW, but there is no "Show"
* The event is limited to the space in the RV park and is first come, first serve
* We have no paid advertising for the event, so help spread the word
* We are not planning for any events, fund raisers, host motels, food vendors, etc. (but we have rented a few porta-potties and FeelMore Clean, our nearly world famous shower bus will be avalible.
* This is not Bug-A-Paluza!
    ** If you pull a 40 foot trailer full of new parts to this event, you might LOSE MONEY.
    ** If your spouse is constantly nagging at you to get rid of some of your VW "junk," here's your chance!
*  There will be no Event T-Shirts, but we may have left over Bug-A-Paluza shirts for sale.
So, bring your VW related stuff you want to get rid of, or your VW shopping list and come hang out with us for the weekend!  Oh, yeah, and it is FREE!
http://www.swapapaluza.com/
https://www.facebook.com/events/480266955391786/