With the black buggy all covered now and heading south to AZ soon I have been cleaning up and reorganizing some of my garage.
This is my old work stand, not too sure just how old it is but I am guessing at least 10 years now. The top of the platen is ~46" high and it is just a bit too high for some things. I also had not put the jam bolt in the stand ... just got too busy and I wanted to shorten the post up a bit at the same time. I hadn't come up with some numbers for height but I settled on 34" (plus the 1` collar I had to make) with is what most work surfaces are which allows you to stand or sit and work. I also used the 44" as a height as that is what one of my commercial work benches is set at ... and it will rise above that if I want.
Not too long ago I was given two brake drums off garbage trucks; they weigh about 65#s a piece. One I have made a stand for a very old and heavy vice and this one I decided to make a new work stand.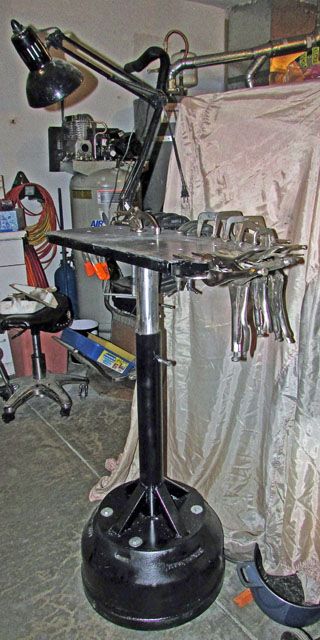 I didn't want to bore you will all the details like I usually do but this is the now finished work station. The platen is adjustable from 35" to over 44" (as you see it here).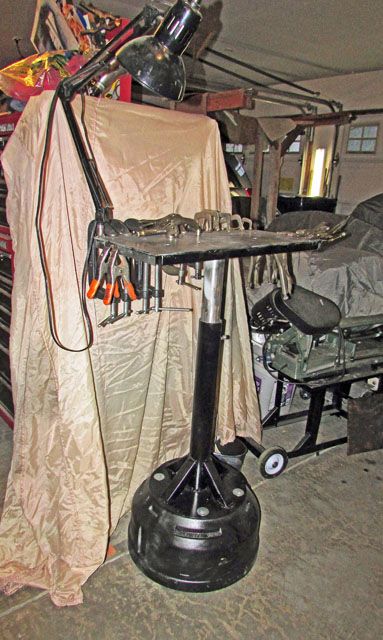 As you see I am storing most of my clamps on it.
The last thing I did was to make a mount for the light. I had turned a piece of round stock down after boring it for the light. I only had a 1/2" drill but needed a 5/8" so this morning, not being able to sleep, I got up at 4:00 am and went out and hand filed for 1 1/2 hours to get the hole the right size.
This shows the piece of round stock I started with and the finished and welded in mount.
This shows the amount of adjustment in the stand. This stand is heavy so you have to stay away when adjusting it until it is securely locked in place! It did slide on me once (it takes two hands to lift it up) and the sound of it coming into contact with the tube was really LOUD!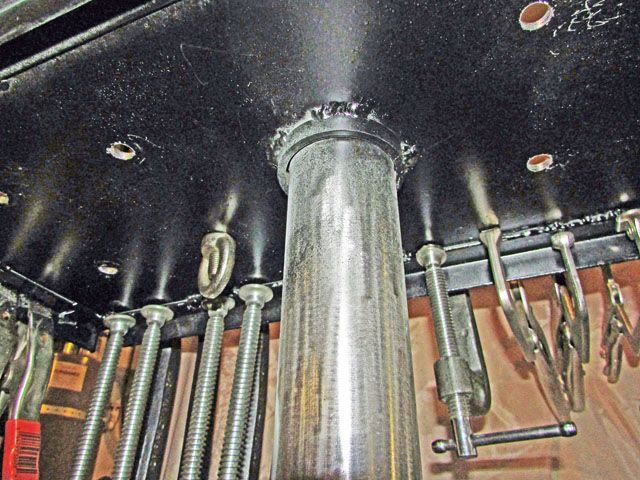 This shows some of the underside of the stand and the collar I ended up having to make. The weld of the adjusting tube to the platen had more of a gap than I wanted and the welds would not let it sit flat, hence the collar to cover the weld to the plate and match the outside tube.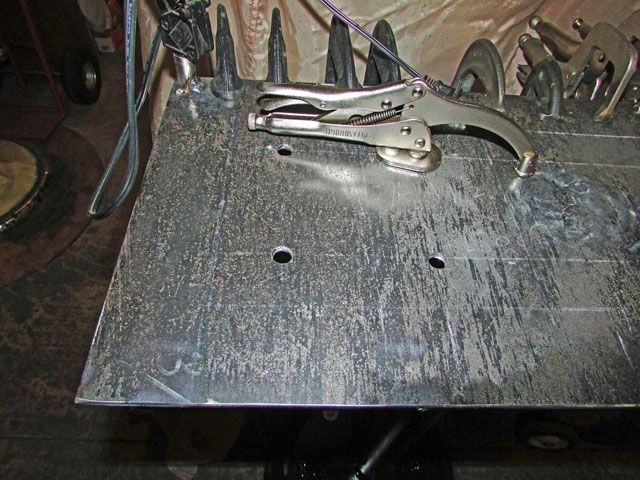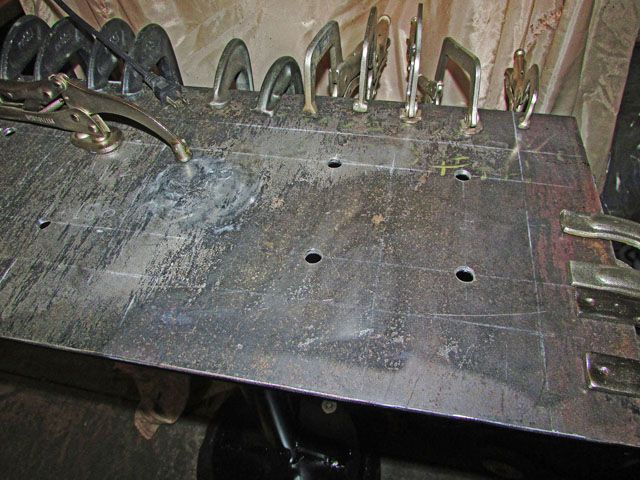 This shows some of the platen. I like the flat mount type of vice grip so, after a lot of debate with myself, I added the holes. 4 on each side of the mounting tube. Works great and should allow me, after I get another, to clamp things securely when working on them.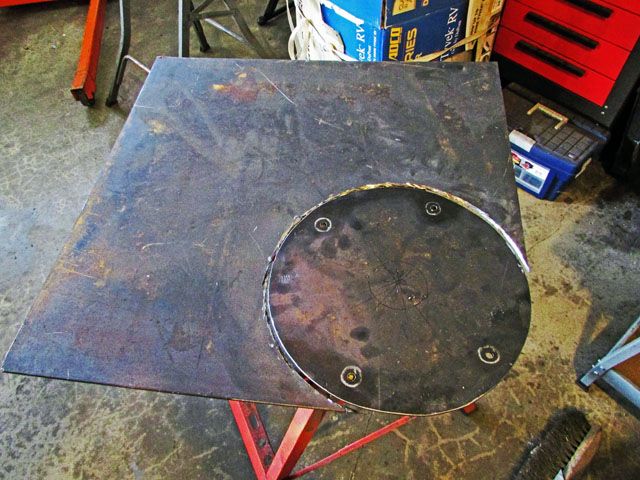 This shows the piece of flat stock I started with for the base and the platen(s). I was after 1/8" to 3/16" but all the had that was already cut roughly to size (I would have had to wait a couple of days because they had so many orders) was a piece of 24" X 26" which is why the platen is 12" X 26". The other scrap hunk of the flat stock, 12" X 12", will be another platen to build when we get back (I got plans... ).
After I got home I noticed that the plate had a bend to it so by clamping the 1" angle iron all around the bottom I got most of the warp to flatten out. I think it will fully flatten on its own out over time. If not a pass or two over the platen with the "smoke wrench" should make that happen
Anyway, busy work but I think it is going to work out well.
The other stand will go to my step-daughter's husband who is into off-road bikes. Who knows, he may get perverted to be into buggies also.
Lee