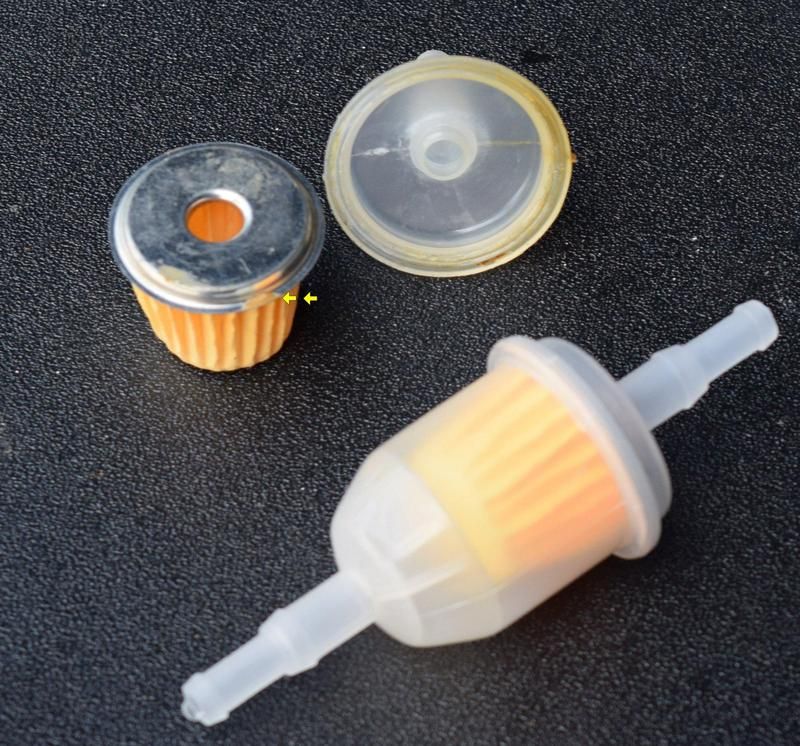 We use clear plastic fuel filters on our racers so we can see fuel color, movement, and whatever debris might be trappped in them at the time. It is a bit humbling to be using the same filter as light garden equipment, but they work, and pass enough fuel in volume to sustain the 2.2 Blitzwagen hours on end in a LeMons enduro.
We also go through a lot of these, as well as FLAP "rubber" fuel line, as heat and ethanol-diluted gas harden the lines. No kidding. We change all the fuel lines, and the three filters about twice a year. That's one each filter for the Kads, and one exiting the fuel cell to the fuel pump. The same is true on our Historic Sportscar Racing Ghia.
https://www.amazon.com/gp/product/B00Y3 ... UTF8&psc=1
Anyway, a leaking disposable filter was a rarity for us, until we bought a box of 10 from Amazon (link above) and the first five we tried out of the box failed. We did some minor forensics and discovered uneven gluing around the filter joint. The photo above even shows a build-up of glue dyed orange (we think) by the paper filter. We had mostly Sunoco racing gas in the Ghia, the grade of which is undyed.
We even wondered if the racing fuel was affecting the filters, or if the fuel pressure (3.5psi for the Weber's) was a contributor. But the buyer's comments on Amazon told it all. Customer after customer had the same experience as us.
The point here is no matter the brand, come back and check your clear plastic fuel filters after an hour or so, no matter what the brand.
FJC
PS: We tried hot glue and Super Glue to 'make these defective filters usable, but no luck. Drip, drip, drip ...