Been looking around this wondrous internet for any info on my recent acquisition and kind of got led here, so here goes...
Compared to many of you lot out there in the big wide world (surprised about how far the users on this forum are spread) I am a complete novice to the VW world. In fact, my first VW experience stems from buying my wife a Beetle about 5 years ago now. I bought it for her as she, like many, had a Bug (an orange 1302s) many years ago as her first car and regretted parting with it for a number of reasons.
When I saw a 1971 1300 up for sale in the local garage with only one previous owner, one thing led to another and I bought it. Not knowing a lot about them then it was probably not the best buy in the world but a great intro into the world of air-cooled VW's and the tinkering that is needed to keep them going.
I have done lots of work to the bug over the years including repainting it with paint rollers (sounds a bit odd but it worked great) replacing the braking system and a million other little service things to keep it a safe daily runner. The only thing I haven't done myself is the welding it has required to keep it on the road, a skill I intend to learn one day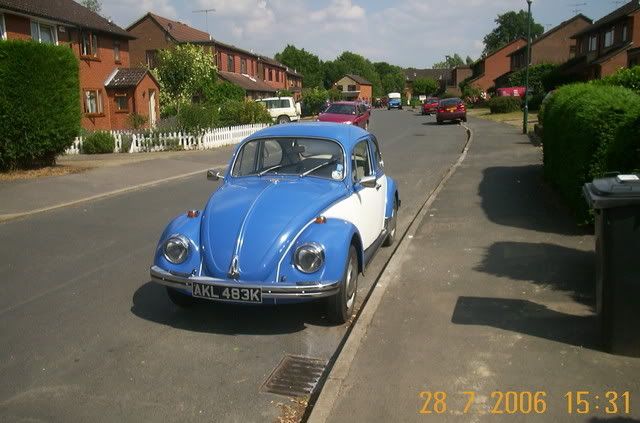 That was my initiation over

It was whilst doing all this stuff to her car that I started wanting an older air-cooled VW of my own. We reached the point a little a while ago that we did not need the large people carrier any longer as the older kids are at the point of driving themselves.
So I started to look around for an air-cooled car for me that we could still use as a practical daily with our youngest kids being 5 & 6 years old and needing to take half the house away with us when go on holidays with our Rapido folding caravan (made in 1979!). The caravan is great by the way and I highly recommend one as an alternative to the camper-vans, going from this...
...to this solid walled caravan with a solid roof and comfy interior with a spacious awning in under an hour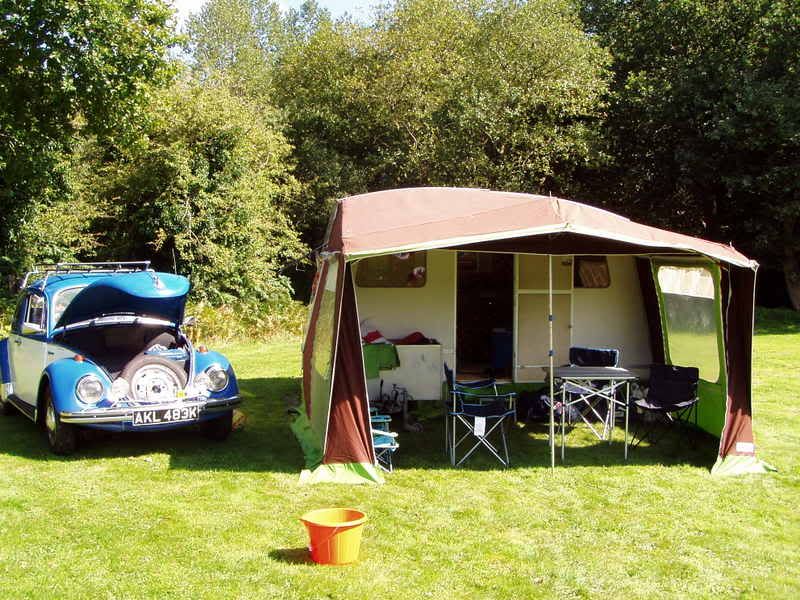 I decided that the practicalities of a family car ruled out the Ghia's (shame

as I love the looks of these cars), the thing was a bit too military for me (10 years in the armed forces was enough military for one lifetime), the bay and split vans are great but faaarrrrrr too much money for what you get (and would have needed extensive rebuilding) which leads us to the subject of my new car...a 412

a 1972, 412LE Variant (at least that is what it says on the back of it!). It has a few things for me to sort out, but that is half the fun

Among some the items on the snag list are the Eberspacher does not work properly, the front near side disc is badly scored (needs replacing but am struggling to find a replacement at the moment as it is the later deeper offset version), the gear selector is a bit of an art (it is a manual), the last few days it has developed a horrible grinding squeal from the front near side (I suspect it is the anti roll bar bushes as when you give it a yank you can see it move in the bushes and hear the noise, albeit a lot quieter) and it runs a bit a rough at low revs (it has the 1.7 fuel injection engine fitted). The body work will also need some work in the summer, in particular the front edge of the bonnet and the rear off side wheel arch. Thankfully the underneath is structurally sound though (I hope!)
Other than that it is great and I look forward to sharing my experiences with it as I learn my around its mechanical intrigues

Shawn.
PS. Off to ask a few questions now about my snag list.
PPS Sorry about the length of the post, once I get started...well you can see