OK, so, turns out that i have been doing this whole "aircooled" thing for a long time now...
And, after a while, seems like i'm kind of getting the hang of it.
So, because there doesn't seem to be a basic "how-to" thread, i'm going to take this one on.
Here will be a build-up showing my shop setup and how "i" do these things.
Any comments/criticism, and tools/tricks are invited.
The idea here is that we all can learn from each other.
Also, part of what makes the T4 so much better than the T1 is that you can re-use OG factory parts.
Here we take this to the extreme; using parts found under a tree.
Not "found under a tree" as a manner of speaking; actually found under a tree.
NOT these types of parts: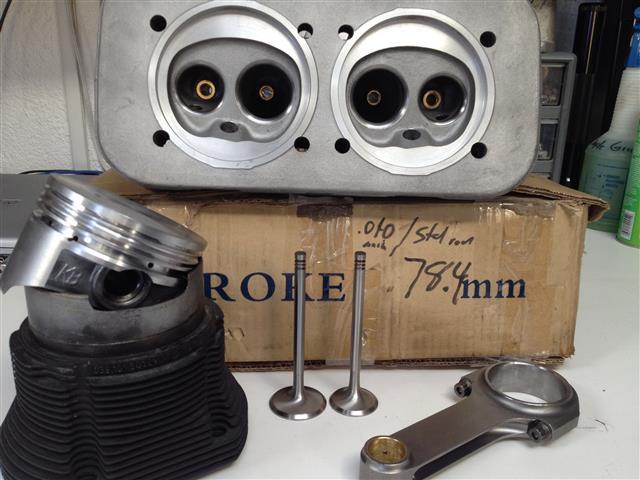 These types of parts: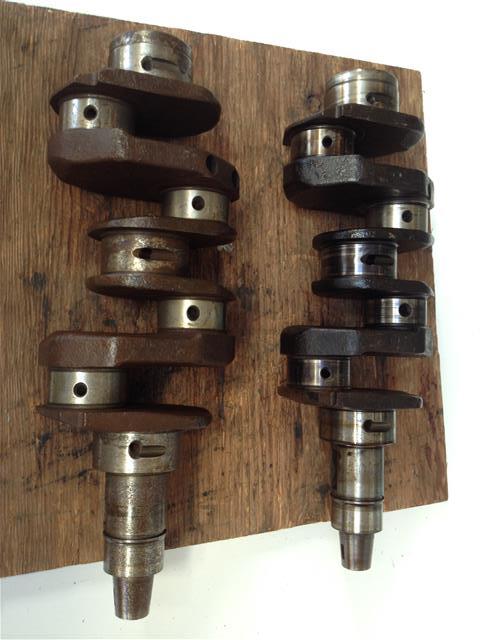 The goal here is not to build the ultimate street warrior, but to build a motor that will last a long time, spending as little $$ as possible.
Time doing this is not a consideration, as this type of thing is my idea of fun.
A bus motor is to be built here, because, er, that's what was lying around.
Other things that make this kind of not 'fair' to the new builder, are that i have been scrounging T4 parts for years,
Have a decent array of VW tools,
And a really, really, good friend of mine happens to be a long-time automotive machinist, having built at least 1000 VW motors.
Jim at Napa Carr Parts in Santa Cruz;
He is the king, and not to be questioned.
Any "internet experts" question his methods or abilities, you better have at least 1000 motors under your belt.
Jim actually has several thousand, as his shop was turning out two or three a day for many years.
Give him a call if you are in the SF bay area, and you will not be disappointed.
So, remember, this is Type 4 101; "Building a Bus Motor on the Cheap, so it will Run for a While".
Spending as little as possible...
Also be advised that i am going to drop names and say what these things cost.
No secrets...
This build is NOT on The Samba, because just as soon as i was starting to get the urge to post this there,
Another one of the typical trolls that lurk there decided not to let NO experience keep him from posting advice.
I love the civil discourse found on this site; That, and the users' years of real experience.
Hope Ev doesn't mind my cross-linking pictures... I love his site, save for the mouth-breathing toads.
Anyhow,
The two cranks above came from a Craigslist motor, and my "tree find".
The stuff under a tree was a couple of botched 1.8 914 motors, and the Craigslist one was a 2.0 914 that i bought as a parts lot.
You can get these cranks in this shape for like $20-$30 (or free) depending upon how much time you spend looking.
I consider them free, because i got a bunch of other stuff when this all came along.
Looking at them above, one has water damage (rust), and the other is burnt (purple color).
First thing to do is mic the journals - lucky me, they are both std/std.
Grabbed out that roll-pin with some Channel-Locks..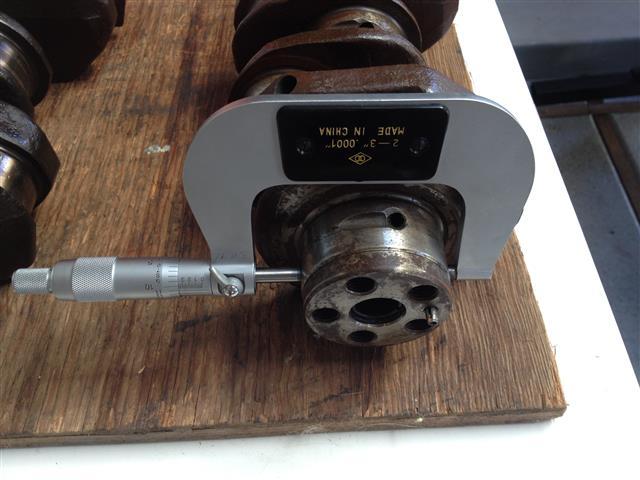 Next, i take and sand down the butt. Get that Fat End Flat!!
Everybody has a flat piece of steel with some wet/dry 400 glued down to it, right?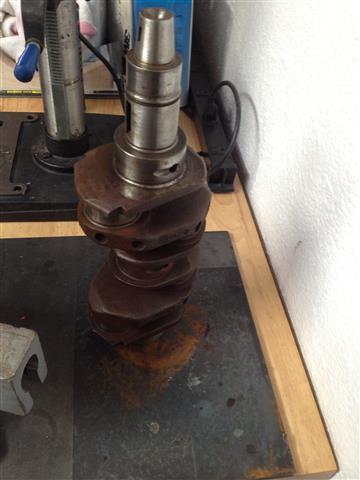 Here is my vise-mount crank holder.
I copied this directly from Jim.
It's a piece of "C"-channel, with the bottom cut and folded over/welded for strength.
It also has a T1 gland nut welded to the side should i ever digress and build a T1.
This is better than having your engine stand be your crank holder, because in my case, the stand always has an engine on it...!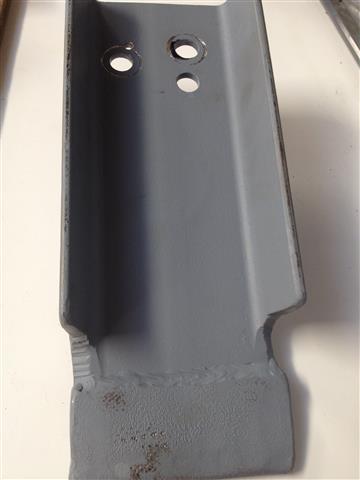 In order to use the holder above, the flywheel mount bolts need shortened, as the holder is thinner than a flywheel.
Here is another trick, where i made my own "bottom tap" by grinding flutes in an old bolt.
This wouldn't work for seriously damaged threads, but seems to do the trick for chasing out threads on a rusty/gunky crank.
Here we have a crank in the holder for some polish work.
This is another trick i learned from Jim.
A piece of soft cotton rope works better than synthetic.
Emery cloth in 120 grit is used here because the cranks are in such very bad shape.
Finer grits would be used to polish a decent crank.
Wrap the emery cloth around the journal, and saw it
To: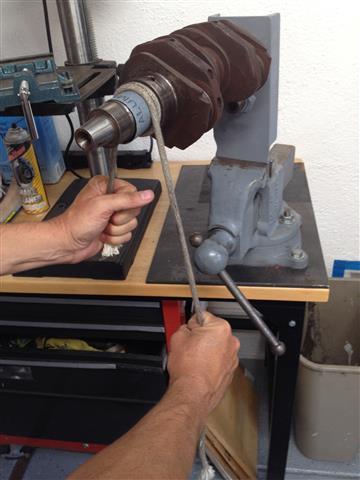 And Fro: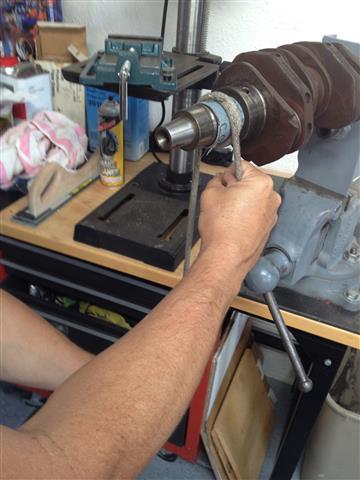 Don't be timid about it, son. Get yer hump on!
This is way better than just shoe-polishing journals with a strip of the cloth.
The rope provides pressure all around the journal.
All of the grit stays wrapped up in the cloth around the journal,
Not on the floor.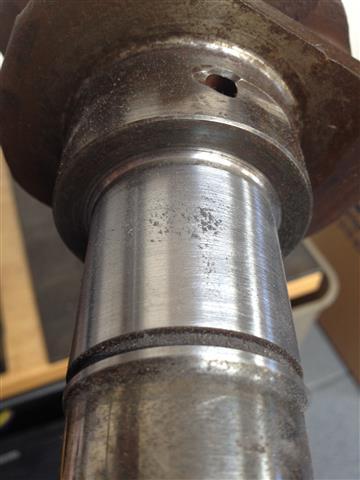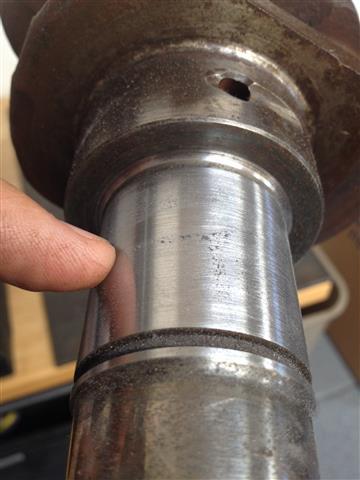 So, that was just for demonstration purposes;
Don't want to be getting grit all over my drill press and body-work supplies...
Here i got them outside where they belong, and am starting to polish them all up, to see what i actually have here.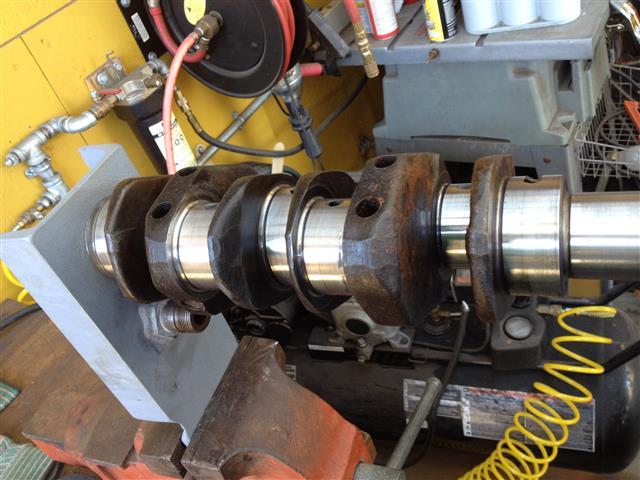 So anyways, stay tuned for to see what these cranks look like, and if they go:
1. Straight into the bin,
2. Off for a grind or polish,
3. Onto finer grits and into some bearings.